April 11, 2007
LANGFORD, BC—Concerned citizens have erected a 'Tree Sit' adjacent to the 40-metre-long Langford Lake Cave, at the location of the proposed Bear Mountain Interchange on the Trans-Canada Highway. They are refusing to leave until the City of Langford abandons the controversial highway project. A press conference will take place Wednesday at 11AM at the Tree Sit (access from cul-de-sac at the end of Leigh Road, the first right off Goldstream Avenue after Spencer School).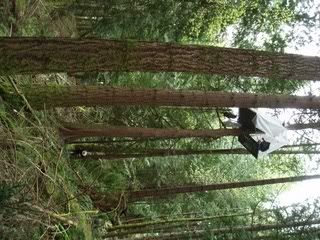 Blocking Bare Mountain Sprawl
 
"We want ethical development now and oppose the Bear Mountain Interchange," says Ingmar Lee, a member of the Coalition to Protect Goldstream Watershed. "Bear Mountain has blasted out the first phase of its "Mountain-top-removal" development plan with the existing access infrastructure. They now require a second access route to build out Phase 2, or "The Son of Bear Mountain."

"The massive Bear Mountain project epitomizes the worst sort of crude, unsustainable development," says Lee. "This hideous example of mountain-top-removal development in the beautiful Highland Hills near Victoria is totally unacceptable. The destruction of ecosystems and increased car travel is unethical at a time of climate change and other catastrophic environmental problems."
The decision to establish the Tree Sit reflects the lack of transparency about the project. The BC Ministry of Transportation is demanding $2650 for 7800 pages of documents, requested through a Freedom of Information Request. Residential properties along Leigh Road have been purchased by the City of Langford to make way for the interchange; they are currently being rented on the condition that tenants vacate the premises on two-months notice.
Lee says that the Douglas Fir forest in the vicinity of Langford Lake Cave is festooned with flagging tape, survey stakes and spray-paint, including the entrance to the speleologically significant cave. Lee finds this particularly disturbing in light of the desecration of a sacred cave near the Skirt Mountain summit by the Bear Mountain developers last December.
"This interchange will put more cars on the road, not less, and destroy endangered ecosystems and the Langford Lake Cave," says Lee. "That's why we're committed to stopping it."
-30-
For further information, contact:
Ingmar Lee, Coalition to Protect Goldstream Watershed           250-721-1386

--
"There comes a time when ya gotta take the bull by the tail and face the situation."  ~ W.C. Fields
~~~~~~~~~~~~~~~~~~~~~~~~~~~~~~~~~~~~~